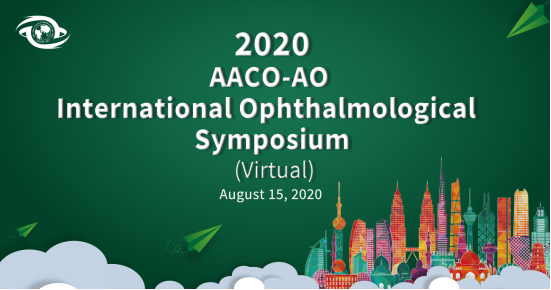 The 2020 AACO-AO International Ophthalmological Symposium (Virtual) was held on August 15th, 2020 to celebrate the establishment of Asia Office, Afro-Asian Council of Ophthalmology (AACO-AO). It was hosted by Afro-Asian council of Ophthalmology Asia Office (AACO-AO) and Zhongshan Ophthalmic Center (ZOC), Sun Yat-sen University.
The symposium included international guest speakers from 7 countries including China, Germany, Singapore, UK, Indonesia, Australia, South Korea, focusing on the exchange of the latest technical achievements in the field of artificial intelligence (AI) in ophthalmology, tele-ophthalmology and clinical ophthalmology in the new era. The symposium attracted more than 3024 participants from different regions and countries.
Professor Lezheng Wu, the president of AACO,gave a speech for congratulations on the establishment of AAOC-AO in Guangzhou, China, which deepens exchanges of scholars in Afro-Asian countries. Professor Haotian Lin, the director of AACO-AO, shared the AI diagnosis application and development of anterior segment of eye disease while Professor Daniel Ting (Singapore) discussed the influence of AI to ophthalmologists. Dr. Olivia Li (UK) shared the advance experience of Moorfields Eye Hospital with tele-ophthalmology during the COVID-19 pandemic. In the session 2, Professor Lingyi Liang (China), Dr.Sohee Jeon (S Korea) , Dr.Adrian Fung (Austrlia) and Dr.Sharita Siregar (Indonesian), respectively showed the technical progress in clinical ophthalmology.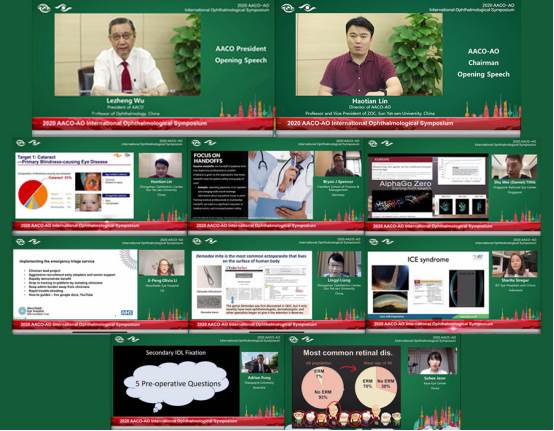 The Afro-Asian Council of Ophthalmology (AACO) was established in Egypt since 1958. It is the oldest and well established international Organizations concerned with the advances of ophthalmology in the Afro-Asian countries. The Afro-Asian Council of Ophthalmology Asia Office is established in 2019 with the intent of strengthening the connection among member countries. We believe that this symposium will not only deepen our understanding of AI development and latest clinical progress in ophthalmology but also tie the new and old friendships of Afro-Asian countries to promote eye researches worldwide. Hoping this symposium will also provide an international platform for academic exchanges in AI application. Enclosed video of the 2020 AACO-AO International Ophthalmological Symposium (Virtual).